A critical part of cloud analytics is connecting data sources, no matter where they exist within the enterprise, with big data stores and analytic tools without the overhead of manual scripting or provisioning of compute resources. The SnapLogic platform enables Microsoft customers to connect:
anything – applications, APIs, data
anytime – batch, streaming, real-time
anywhere – on premises, in the cloud or in a hybrid environment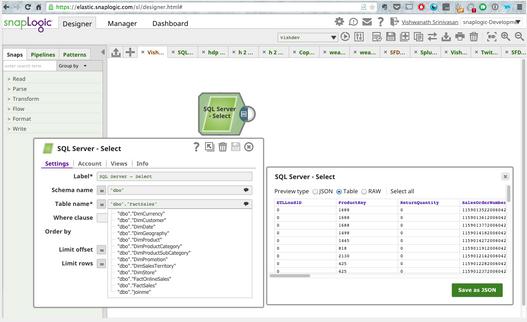 The SnapLogic data integration platform for Microsoft lets customers connect data to HDInsight and the rest of the Cortana Intelligence Suite quickly and without coding, delivering a powerful platform for predictive analytics and machine learning in the cloud.
Integrated Solutions
SnapLogic provides fast, self-service data connectivity to and from Cortana Intelligence and Azure data services. Points of integration include:
Pre-built intelligent connectors – called Snaps – for Cortana solutions, including:

Microsoft Azure Data Lake Store
Microsoft Azure

SQL

Data Warehouse
Microsoft Azure

SQL

Database
Microsoft Azure Blob Storage

SnapLogic's hybrid execution framework – called a Snaplex – can be deployed on Microsoft Azure resources and within Azure HDInsight for fast, scalable big data analytics.
More than 400 Snaps for data sources to connect to Azure, including cloud-based applications, on-premises applications such as

ERP

and

CRM

, big data sources, business intelligence tools, data visualization and more
Azure Data Lake Store, Azure
SQL

Data Warehouse, Azure

SQL

Database and Azure Blob Storage

SnapLogic enables customers to quickly transfer up to petabytes of data into and out of Microsoft Azure Data Lake Store, SQL Data Warehouse, Azure SQL Database and Azure Blob. The data can be moved at any latency (scheduled batch, event-driven and continuous streaming) to meet a diverse set of business requirements.