Thanks to Hadoop, Spark and other big data processing engines, enterprise IT organizations and developers are now able to process and store massive volumes and varieties of data, which is then ending up in big data lakes, hubs, and repositories. Feeding, reading and analyzing large amounts of unstructured, complex or social data can prove challenging for most integration vendors. Not so for SnapLogic. SnapLogic's distributed, web-oriented architecture is a natural fit for consuming large data sets residing on-premises, in the cloud, or both – giving maximum visibility to your big data analytics.
SnapLogic's platform-agnostic approach decouples data processing specification from execution. As data volume or latency requirements change, the same pipeline can be used just by changing the target data platform. Whether it's Hadoop, Spark, ETL or other big data frameworks, SnapLogic allows customers to adapt to new data requirements without locking them into a specific framework.
Hadoop

SnapLogic can run natively on a Hadoop cluster as a YARN-managed resource that elastically scales out to power big data analytics. The Hadoop Snap enables customers to create Hadoop-based pipelines without hand-coding. These pipelines can be used to ingest data, easily prepare data for consumption and provide relevant data for business insights.
Spark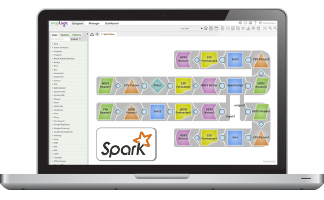 The Spark Snap enables customers to create Spark-based data pipelines without coding. These high-performance pipelines are ideally suited for memory-intensive, iterative processes. With this addition, customers can choose to use either MapReduce or Spark for data processing, depending upon factors such as data size, latency requirements, and connectivity.
The Sparkplex is a data processing platform that features a collection of processing nodes or containers that can take data pipelines, convert them to the Spark framework, and then execute them on a cluster. The combination of the Spark Snap and Sparkplex gives customers the speed benefits of Spark data analytics without the time and effort involved in creating and maintaining hand-coded integration between data sources and a Spark cluster.
SnapLogic and Big Data
With powerful application and big data integration in a single platform, SnapLogic connects enterprise applications and data stores with minimal coding, helping you get from big interactions to big insights more quickly and easily than any other integration solution:
Comprehensive connectivity to Spark with pre-built Snaps for Spark, Cassandra and more
Pre-built connectivity to 400+ data sources that can easily be loaded into Spark, Hadoop, or Microsoft Azure
Big Data on-demand for both expert and self-service users, making data scientists more productive by letting them focus on business insights, not data integration
Example on how to leverage YARN natively and utilize Hadoop resources to execute data pipelines