Hybrid Cloud Data Integration Platform Expands Connectivity to Microsoft Azure HDInsight and Microsoft Azure Data Services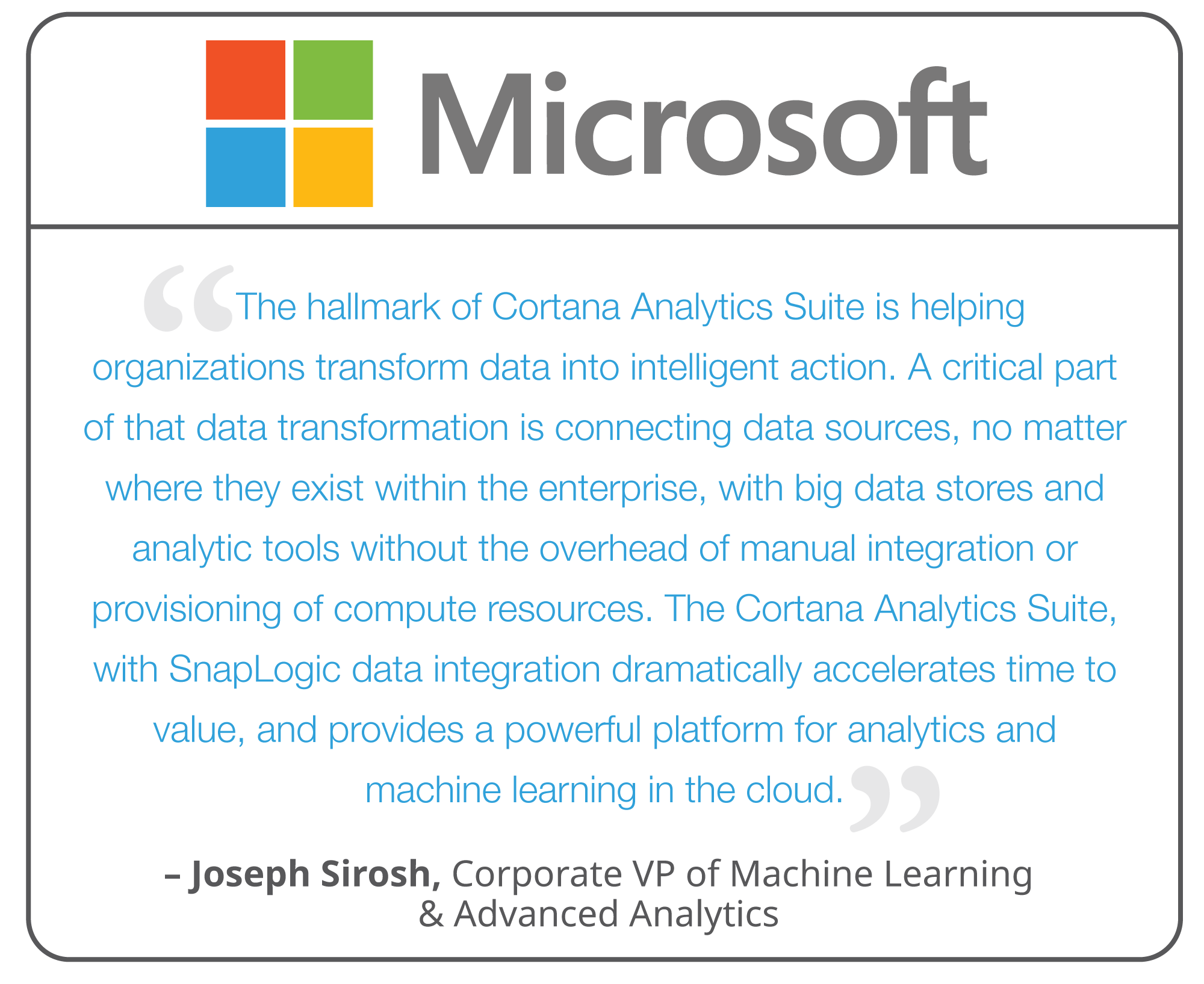 SAN MATEO, Calif. — September 29, 2015 — SnapLogic, an industry leader in enterprise integration platform as a service (iPaaS), today announced new capabilities for delivering application and data integration for Microsoft Cortana Analytics Suite. The SnapLogic Elastic Integration Platform enables customers to get to business insights faster by providing self-service data ingestion, preparation and delivery from virtually any source – whether on-premises, in the cloud or in hybrid environments – to the Cortana Analytics Suite.
SnapLogic's new partnership with Microsoft will provide customers of both companies a fast on-ramp to advanced analytics in the cloud. Today SnapLogic announced the first product integrations in support of this partnership, including:
Pre-built intelligent connectors – called Snaps – for Microsoft Azure

SQL

Data Warehouse, Microsoft Azure

SQL

Database, and Microsoft Azure Blob Storage. These Snaps provide fast, self-service data connectivity to and from Cortana Analytics and other Azure data services.
The ability to deploy SnapLogic's hybrid execution framework – called an Azureplex – on Microsoft Azure with and within Azure HDInsight for fast, scalable big data analytics.
"We are pleased to partner with Microsoft to help democratize the new generation of business analytics," said Gaurav Dhillon, co-founder and CEO, SnapLogic. "By providing fast, self-service connectivity between data sources and powerful big data analytics in the cloud, the combination of SnapLogic and the Cortana Analytics Suite delivers seamless, predictive 'analytics-as-a-service' for the enterprise."
"The hallmark of Cortana Analytics Suite is helping organizations transform data into intelligent action," said Joseph Sirosh, Corporate Vice President of Machine Learning and Advanced Analytics, Microsoft. "A critical part of that data transformation is connecting data sources, no matter where they exist within the enterprise, with big data stores and analytic tools without the overhead of manual integration or provisioning of compute resources. The Cortana Analytics Suite, with SnapLogic data integration dramatically accelerates time to value, and provides a powerful platform for analytics and machine learning in the cloud."
The first of SnapLogic's integrations for Microsoft Cortana Analytics Suite are available today. For more information visit www.SnapLogic.com/Microsoft-Azure.
About SnapLogic
SnapLogic is the industry's first unified data and application integration platform as a service (iPaaS). The SnapLogic Elastic Integration Platform enables enterprises to connect to any source, at any speed, anywhere — whether on premises, in the cloud or in hybrid environments. The easy-to-use platform empowers self-service integrators, eliminates information silos, and provides a smooth onramp to big data. Founded by data industry veteran Gaurav Dhillon and backed by leading venture investors Andreessen Horowitz and Ignition Partners, SnapLogic is helping companies across the Global 2000 to connect faster.
All product and company names herein may be trademarks of their registered owners.
Connect with SnapLogic
Press Contact:
Jin Woo
[email protected]
925-271-8229