Application
Integration
Connect every application, at scale, without the complexity.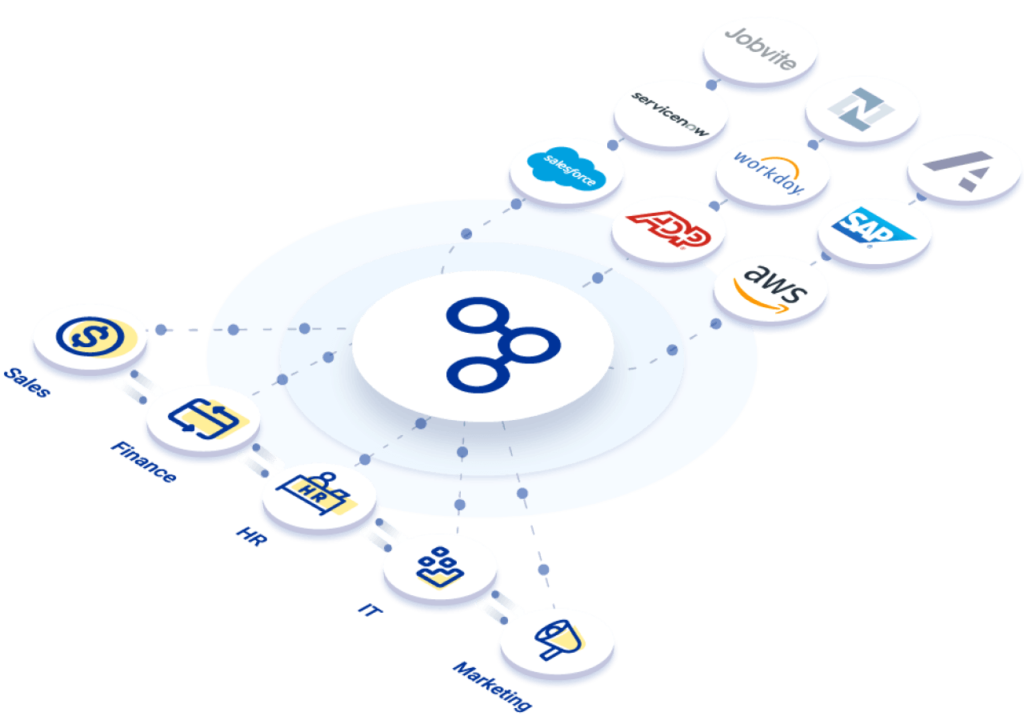 ---
Break silos and take control of your application sprawl
Applications and their data power the way work gets done. Manually integrating countless applications is slow and costly. With the no-code/low-code iPaaS platform from SnapLogic that includes hundreds of Snaps (pre-built connectors) to enterprise applications, organizations can easily gain control of application sprawl, keep them in sync, and help teams build trust in their data.
Automate business processes and say goodbye to burnout
Quote-to-cash, employee onboarding, invoice processing and many more business processes drive your business forward. Automate these processes so your teams are focused not on manual data entry but on identifying process improvements and gathering insights.
Finish projects faster with proven workflows and thoughtful AI
No SnapLogic experience? No problem! Get productive on the SnapLogic platform in days and proficient in weeks. Finish your integration projects sooner with our AI-assistant at every step. With AutoSuggest, we recommend workflows based on the field-proven catalog so you can get started faster.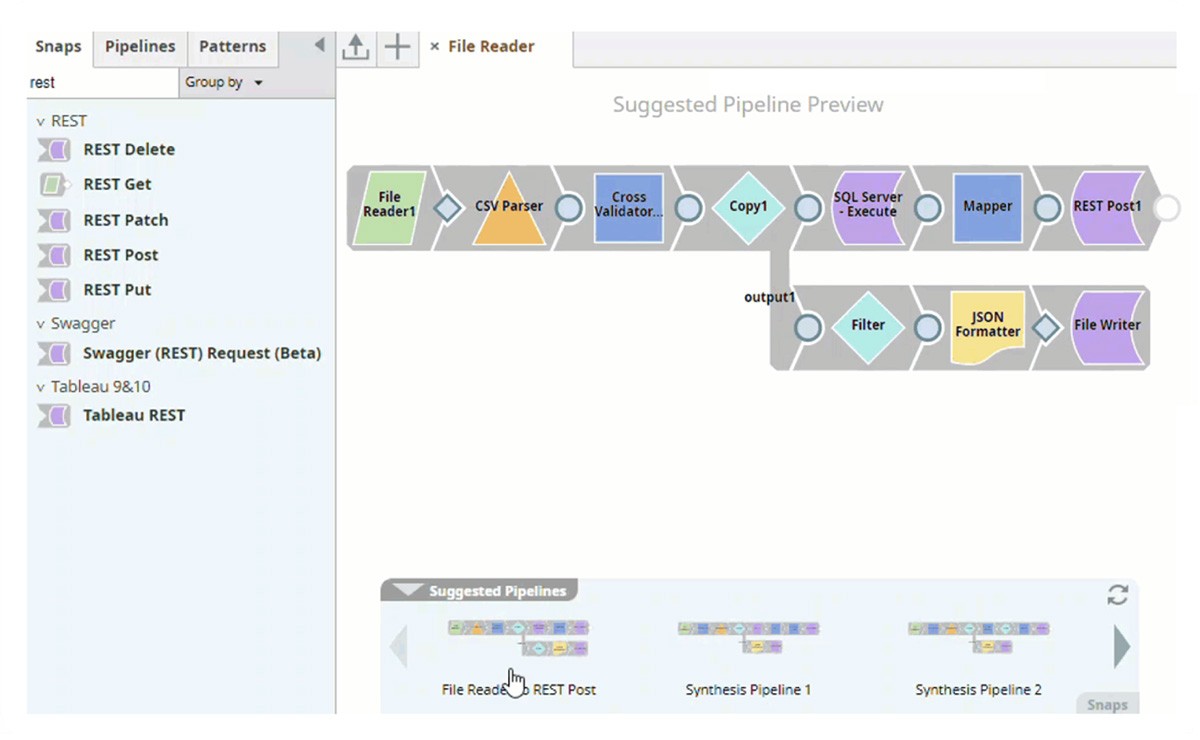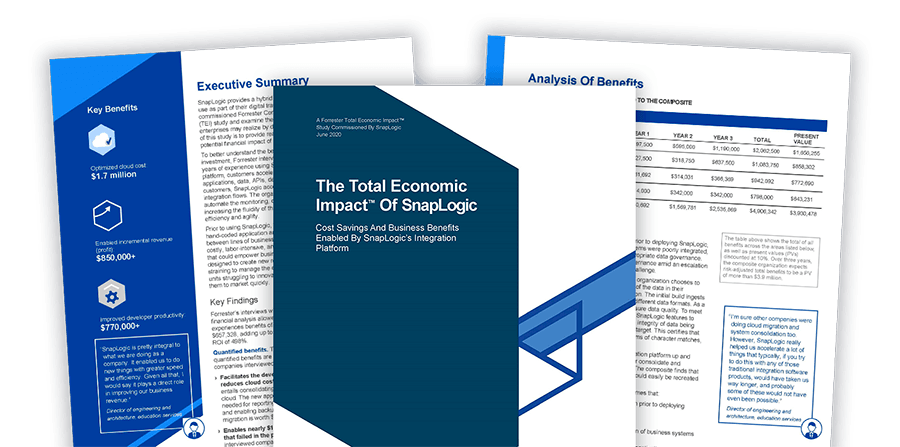 498%
ROI with a payback period of <6 months
498%
ROI with a payback period of <6 months
Forrester reveals customers receive an ROI of 498% and total benefits of over $3.9 million over three years with the SnapLogic platform. Get Forrester's Total Economic Impact™ Study of SnapLogic.
All the tools you love, integrated in a Snap.
Snaps are pre-built connecters that make code-free integrations possible.
With over 700 Snaps to choose from, SnapLogic makes it easy to create simple workflows or complex business processes between cross-functional work groups. Enable your organization to automate entire ecosystems of applications, databases, APIs, data warehouses, devices, and more.
"We've connected 40 applications and are processing more than 15M transactions daily. That's astronomical given that we've only needed 1.5 FTE developers to support it."

Sr. Manager, Data Strategy and Architecture, Box
"SnapLogic is extremely powerful and I am always amazed at how fast it can process millions of rows of data. It makes it extremely easy to connect to sources like Salesforce, Snowflake, Jira, Zendesk, etc. It saves a lot of time."

Jacob Rasmussen, Data Engineer, Route
"The SnapLogic integration platform enables us to build fast, secure integrations across dozens of HCM, ITSM, and other applications to automate all stages of the employee journey. By seamlessly connecting our HR systems, we're enabling our employees to deliver engaging customer experiences that drive loyalty and revenue."

Harsh Desai, Enterprise Architect, Denny's
"SnapLogic enabled Acxiom to establish a seamless, agile, and secure integration framework to facilitate integrations between corporate SaaS applications and a variety of on-premises systems. The new Workday HCM and Finance integrations ensure our front office and operational systems are well connected to the back office."

CIO, Acxiom
Featured Resources
FAQs
Application integration refers to integrating enterprise applications such as Salesforce, Workday, NetSuite, SAP with one another. It allows you to synchronize data between applications, maintain and propagate a single source of truth, and automate business processes.
SnapLogic provides connectivity to 50+ enterprise applications e.g. Workday, ServiceNow, SAP S/4HANA, NetSuite, Splunk, Microsoft Dynamics 365, Slack, Marketo, etc.
SnapLogic helps you automate business processes such as order-to-cash, procure-to-pay, employee onboarding, employee offboarding, customer onboarding, etc. SnapLogic also provides pipeline patterns within the product, so that you can leverage the community intelligence to automate business processes quickly.
With SnapLogic's Snaps, you don't need to refer to application's API documentation, vastly improving integrator productivity. Snaps do endpoint introspection so that you can pick objects from a dropdown menu. Snaps also provide an automatic retry mechanism in case of failures. And most importantly, Snaps leverage economies-of-scale to keep this connectivity up-to-date in the face of new API versions.
Get started with SnapLogic