Data Integration and Automation
Mobilize data to the cloud with visual ETL or ELT and use reverse ETL to send data to your apps.
---
Data integration and automation done differently
SnapLogic delivers a versatile and scalable data integration solution that enables you to connect and load data from on-premises-based or cloud-based sources. Use either ETL or ELT data load patterns, and after you've enriched your data in a cloud data warehouse, connect to all of your applications with reverse ETL. Eliminate data silos and stop costly and complex integration tool sprawl.
Accelerate your data analytics projects for everyone
Not only does SnapLogic deliver an agile, cloud-native integration-platform-as-a-service (iPaaS) for data platforms, we are the pioneers of graphical "drag-and-snap," AI-augmented data pipeline design assistance. Our AI-driven next-step recommendation engine technology, we call Iris, is backed by over six years and petabytes of metadata. Create pipelines 40% to 60% faster compared to other visual approaches, and even faster compared to manual coding. Your integration environment will scale much more efficiently.
Orchestrate data flows across your organization with ease
Do you also need to deliver API-driven data services from your data platform, or share and collaborate with data across your organization? SnapLogic makes it easy with an integrated API development and management (APIM) platform that features robust API developer and API consumer portals. Keep the data in the data platform and share via APIs. Or go further and not only push your data to applications, but also share data between applications.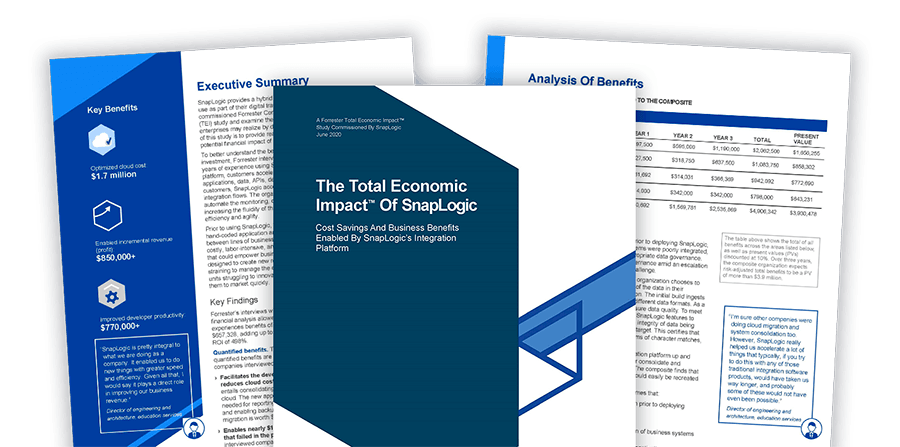 498%
ROI with a payback period of <6 months
498%
ROI with a payback period of <6 months
Forrester reveals customers receive an ROI of 498% and total benefits of over $3.9 million over three years with the SnapLogic platform. Get Forrester's Total Economic Impact™ Study of SnapLogic.
Looking to simplify your data integration?
SnapLogic AutoSync
Synchronize your data in minutes
Accelerate time to value and boost business agility. SnapLogic AutoSync delivers automated ingestion of data from SaaS applications into popular cloud data warehouses.
SnapLogic AutoPrep
Prepare and cleanse data the fast and easy way
Achieve 10X faster time to value vs hand coding. SnapLogic AutoPrep automates data transformation tasks to drive efficiency and accelerate data orchestration in the cloud.
"SnapLogic makes it easy for business and IT teams to quickly and intuitively move petabytes of data from multiple sources into Amazon Redshift, granting access to data insights."

Rahul Pathak, General Manager, Analytics at Amazon Web Services (AWS)
Get started with SnapLogic