The finance team is at the heart of every organization. This is the team that funds all operations, from product development, marketing, sales to services, and manages revenue collections and payments from customers and to partners respectively. In this "Automating Finance Operations" blog series, I will take a closer look at key challenges plaguing finance organizations when integrating their ERP systems, review common finance processes, and identify easy-to-do automations that can deliver massive value to organizations.
Challenges at Small and Medium-size Businesses (SMBs) and large organizations (Enterprises) are different. SMBs often use different ERP systems than their larger counterparts. SMB ERP systems, such as NetSuite and Sage are typically easy to set up and install. They are often used as is without any customization and they may offer less functionality than the enterprise ERP systems such as SAP ECC, SAP S/4HANA, Microsoft Dynamics 365 Finance and as a result are much less expensive.
Here are the top 3 challenges when integrating an ERP system with other systems of record.
Variable business processes
A business process that has limited to no exceptions is much easier to automate. But in the real world, most of the time, that is not the case. Your team might have defined a process but your organization needs to be flexible when working with external customers, partners, vendors, who follow a different process.
For example, some customers issue a Purchase Order (PO) only after an invoice is issued while some can issue a PO without an invoice. So if your team typically does not issue an invoice before seeing a PO from the customer, you will have to allow for an exception when serving a certain set of customers.
This variability introduces complexity in the Accounts Receivable (AR) process and complicates any integration/automation projects. Additionally, if there is no clarity on the customer/partner processes, or if the sales team makes wrong assumptions, payments and revenue recognition can get delayed.
Data silos
Before the advent of SaaS applications, enterprise software was homogeneous. Many organizations big and small used to run large ERP software suites for their accounting, finance, tax, expense management, and planning needs. These large software suites came from the same vendor, so they worked well together but were very costly. Additionally, there was less opportunity to adopt another tool for a functionality that your team needed but the software did not provide.
But today, many organizations have adopted a best-of-breed approach for applications. This approach empowers users to find the best tool for the job. Today, finance teams use tools such as CRM platforms (Salesforce, Microsoft Dynamics 365 for Sales, etc.) for AR, expense management platforms (SAP Concur, Expensify, etc.) for managing employee expenses, a banking application to easily connect to the banking system for wires and money transfers, account payable tools (Bill.com/Tipalti) for Accounts Payable (AP) and so on.
With so many data silos, integration of these finance systems has become super critical for efficient month-end/year-end close, accurate financial planning, and error-free audit reporting.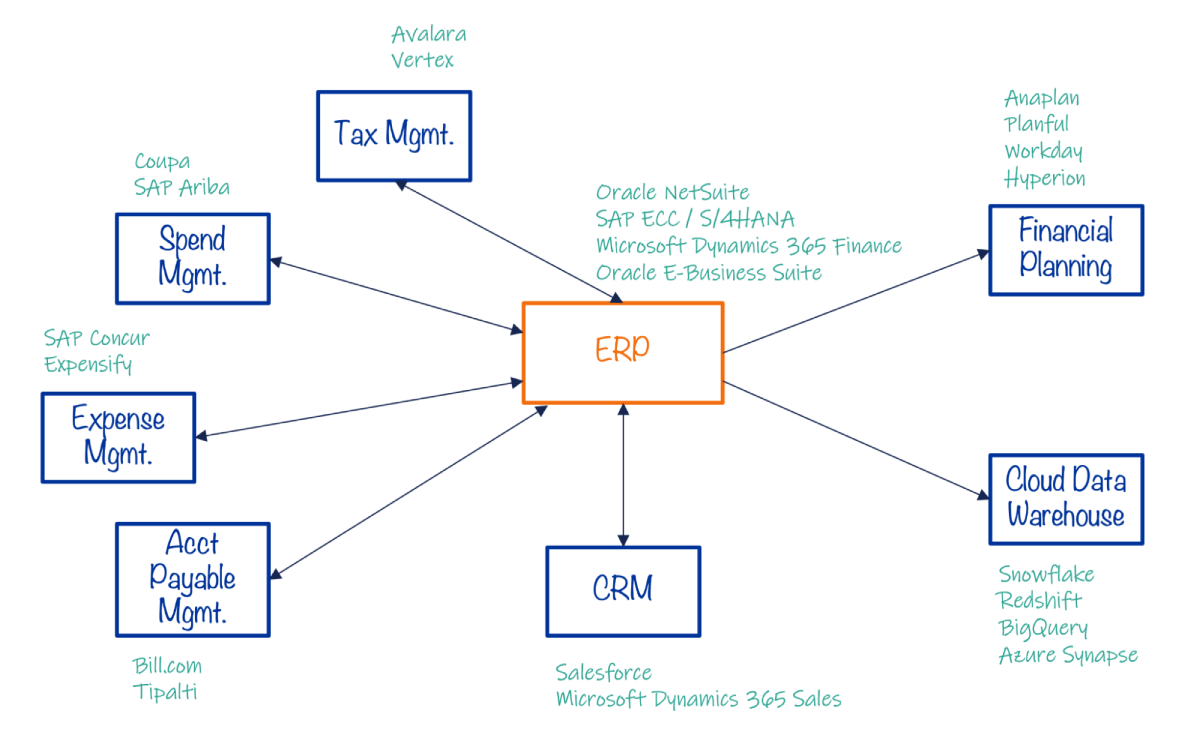 Integration fragmentation and complexity
An interesting side effect of best-of-breed applications is the fragmentation of integrations. In most cases, applications that revolve around the ERP application, which I call satellite applications, such as Avalara used for Sales Tax calculation, provide an integration with the ERP system. Same is the case for other systems of record in the spend management, expense management, and account payable management categories.
While this approach is convenient initially when you adopt a satellite application, in the long-run such approach is unsustainable as it fragments development and view of integrations that are so critical for your enterprise. An integration developer would now need intimate knowledge of all these satellite systems to build and maintain integrations.
Some organizations build those integrations in the ERP application but oftentimes ERP applications do not provide pre-built integrations to most applications in their ecosystem. And for the ones that they do have integration for, you will have to take help from an ERP consultant to build and maintain those integrations. Even users who regularly use these ERP applications lack the tools to build integrations and have to rely on external experts.
A platform to manage ERP integrations
So in summary, top challenges when integrating your ERP systems are due to variable business processes, growing number of data silos, and fragmentation and complexity of these integrations. You can overcome many of these challenges with the right integration platform. In the blog next week, I will review some common finance business processes that need integration between ERP and other systems-of-record.